| | |
| --- | --- |
| | Product Show |
| | |

4 Channels Desk-top Variable Optical Attenuator (VOA) Specification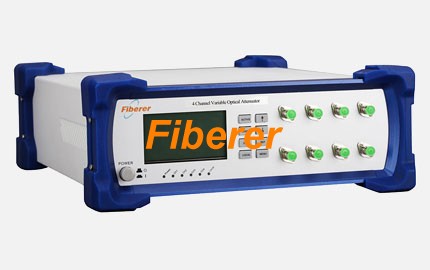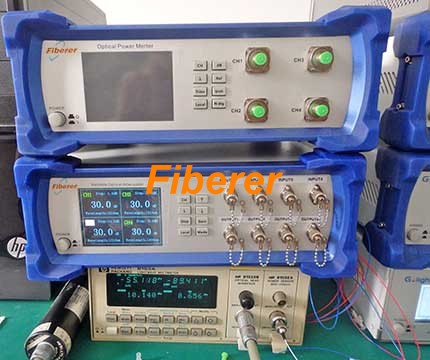 4 Channels Desk-top VOA and Optical Power Meter (above)
Description:
This 4 Channels Desk-top Variable Optical Attenuator (VOA), in one Desk-top or 1U 19" Rack mount package, works in Multimode (MM) or Single mode (SM) Operating mode, with 1, 2 or 4 Output channels, Wavelength range (nm) 850±20, 1310±40 for MM mode or 1250~1650nm for SM mode, max attenuation range 0~60 dB, typical attenuation accuracy is 0.2 @0~30dB, 0.3 @30~60dB, Attenuation resolution ≤0.1 dB, Insertion loss <2 dB, Repeatability @ 0~60dB/1h <0.1 dB, Return loss >40 dB. OEM model is well available on customer's special request.
Application:
Optical network system test
Optic fiber device testing
R&D engineering field
Features:
Low IL (insertion loss)
60 dB attenuation range
High response speed
High resolution
High stability and reliability
Specifications:
Parameters

Operating mode

Multimode

Single mode

Output channel No.

1, 2 or 4

Wavelength range (nm)

850±20, 1310±40

1250~1650

Calibrated wavelength (nm)

850/1310

1310/1490/1550 or customize

Attenuation range (dB)

0~30, or 0~60

Attenuation accuracy (dB, typical)

0.2 @0~30dB, 0.3 @30~60dB

Attenuation resolution (dB)

≤0.1

Insertion loss (dB)

<2

Repeatability @ 0~60dB/1h (dB)

<0.1

Return loss (dB)

>40

>50

Max input power (mW)

300

Fiber type

50/125, 62.5/125 MMF

SMF-28e (9/125um)

Power supply

AC 90~250V, 50~60Hz, 20W

Communication interface

LAN/USB/RS232

Dimensions (L×W×H, mm)

360×300×110
Ordering Information:
VOA-D

Channel Number

Wavelength Range

Attenuation Range

LCD Display

Fiber Type

Connector

 

1=1 Channel

2=2 Channels

4=4 Channels

etc

850=850nm

1310=1310nm
1550=1550nm 1310/1550=1310 & 1550nm
etc

30=30dB
60=60dB

etc

0=Without

1=With

S=SM Fiber

P=PM Fiber

M=MM Fiber

FC/UPC

FC/APC

etc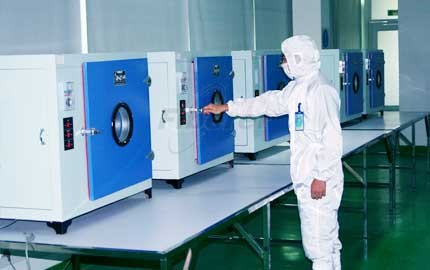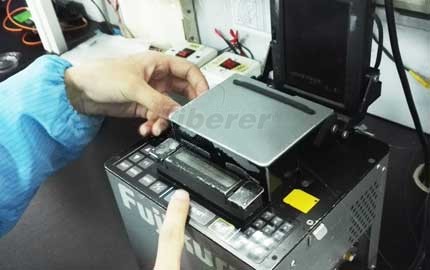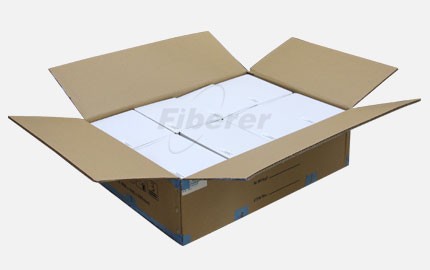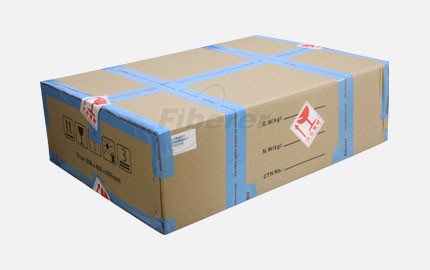 Packaging & Labeling
To protect each of product, Fiberer will use firm and secure Package, and common use Fiberer Label if customer not remark.
It is available to use custmized labeling and packaging for customer request.

Shipment
All shipment will be succssful to arrive customer's address. Fiberer try our best to let the shipment fast for customers, and the common express is by air of Fedex, DHL, UPS, EMS and TNT.
If the customer pay Fiberer the shipment charge, it will use Fiberer express account for the shipment, otherwise it need to use the customer's express account.
Customized & OEM
Fiberer always do Customized for customer's request successfully, It is available for Customized & OEM.



Quality Assurance

: assure 100% best quality.
(Fiberer assure 100% best quality.the term will be signed on order and invoice,match the safety of international business law.)
Customer Reviews
If not vote,please vote,thanks!
Last product: No Product
Next product: No Product
Print | Add in favorite