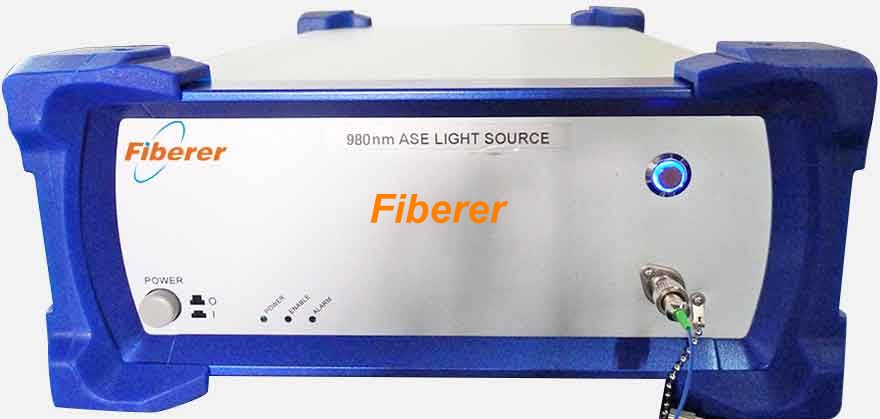 980nm ASE and 850nm SLED Light Source (above)
Description:
905/980nm ASE Broadband Light Source, central wavelength 905 nm, 980 nm, operating wavelength range 880-930nm, 960-1000nm, output power ≥ 5 mW, power spectral density (PSD) ≥ -17 dBm/nm. OEM model is well available on customer's special request.
Applications:
Optical fiber sensing
WDM, Film testing
Optical fiber measurement equipments
Fiber Optic Gyroscope (FOG)
Optical coherence tomography (OCT)
Features:
High output power
High spectral stability
Broadband spectrum output
Low noise
Low polarization and low coherent
Specifications:
Parameters

ASE-905

ASE-980

Operating wavelength (nm)

880~930

960~1000

Output power (mW)

5

7

Power spectral density (dBm/nm)

≥-17

Spectral stability (dB)

≤±0.05(5 min)

Output power short-term stability (dB) 1

≤±0.02(5 min)

Output power long-term stability (dB) 2

≤±0.03(8 hour)

Degree of Polarization (DOP)

≤5%

Pigtail fiber

SMF-28

Connector type

FC/PC, FC/UPC or FC/APC, etc

Operating temperature (℃)

0 ~ +65

Storage temperature (℃)

-20 ~+70

Relative humidity (%)

20~80

Power Supply

110/220V AC, +5V DC, Driving current >500mA; △V<1%

Maximal Power Consumption

10 W

Dimension (L×W×H, mm)

100×80×20(Module), or 320×220×90(Desk-top)
Remark: Stability is tested at room temperature 25±2℃ after pre-heating 30 minutes.
1. Test condition: fixed temperature, CW.
2. Test condition: temperature variation ±2℃, CW.
Typical Spectrum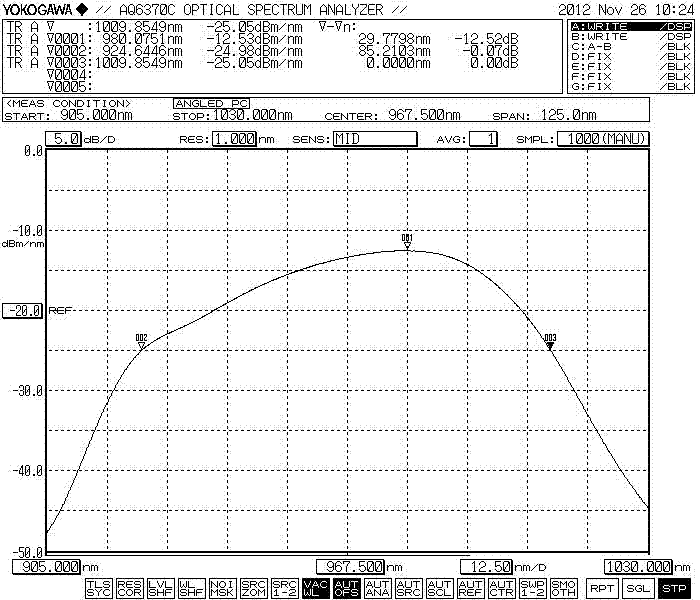 Ordering Information
ASE-905/980

Package Type

Working Wavelength

Output Power

Fiber Type

Connector

 

M=Module
D=Desk-top

A= 880~930nm

B=960~1000

etc

10=10mW
20=20mW
etc

S=SM Fiber

P=PM Fiber

etc

FC/UPC
FC/APC
etc